News
05/19/2014 10:53 AM
-
FOR IMMEDIATE RELEASE --- The Rimington Trophy Committee has released its 2014 Spring Watch List, which includes 64 of the best centers in Division I football. The athletes included on this list have demonstrated excellence at the center position in the past and are predicted to do so again in the 2014-2015 season. The following is a list of those named to the 2014 Spring Watch List: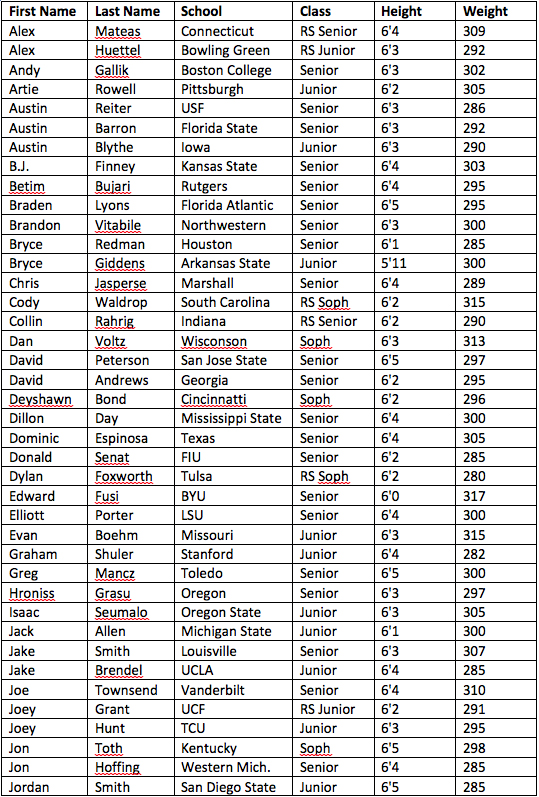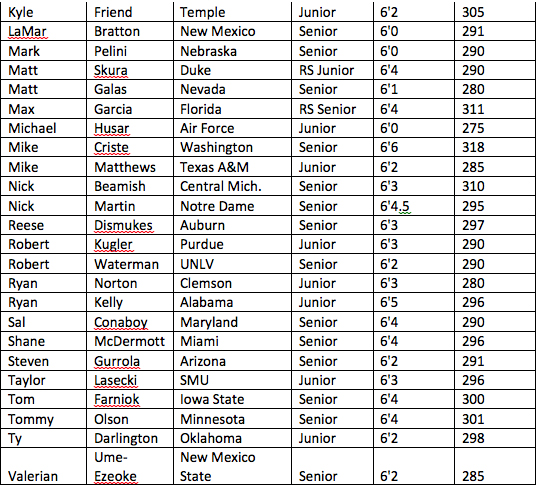 While more than a dozen All-America teams are selected annually, the Rimington Trophy committee used these three prestigious teams to determine a winner:
Walter Camp Foundation (WCF)

Sporting News (SN)

Football Writers Association of America (FWAA)
Because the selectors of these three All-America teams can place centers in a "mix" of offensive linemen that includes guards and tackles, their 11- man first teams can often have two centers. The Rimington Trophy committee's policy is to count all players that play primarily the center position for their respective teams as centers, even though they may be listed as guards or tackles on the four All- America teams.
The center with the most first team votes will be determined the winner. If there is a tie with first team votes, then the center with the most second team votes will win. If there is still a tie, the winner will be determined by a majority vote from the Rimington Trophy committee. The winner will be recognized at the Rimington Trophy Presentation at the Rococo Theatre in Lincoln, Nebraska on Saturday, January 17, 2015.
* * *

About the Rimington Trophy
The Rimington Trophy is presented annually to the Most Outstanding Center in NCAA Division I-A College Football. Since its inception, the Rimington Trophy has raised over $2.5 million for the cystic fibrosis community. The fourteen-year old award is overseen by the Boomer Esiason Foundation, which is committed to finding a cure for cystic fibrosis and has raised over $100 million for CF Research.
Dave Rimington, the award's namesake, was a consensus first-team All-America center at the University of Nebraska in 1981 and 1982, during which time he became the John Outland Trophy's only double winner as the nation's finest college interior lineman.
For more on the Rimington Trophy and a list of past recipients, visit www.rimingtontrophy.com
About the NCFAA
The Rimington Trophy is a member of the National College Football Awards Association (NCFAA), which encompasses the most prestigious awards in college football. The 21 awards boast 678 years of tradition-selection excellence. Visit www.NCFAA.org to learn more about its story.