Current Winner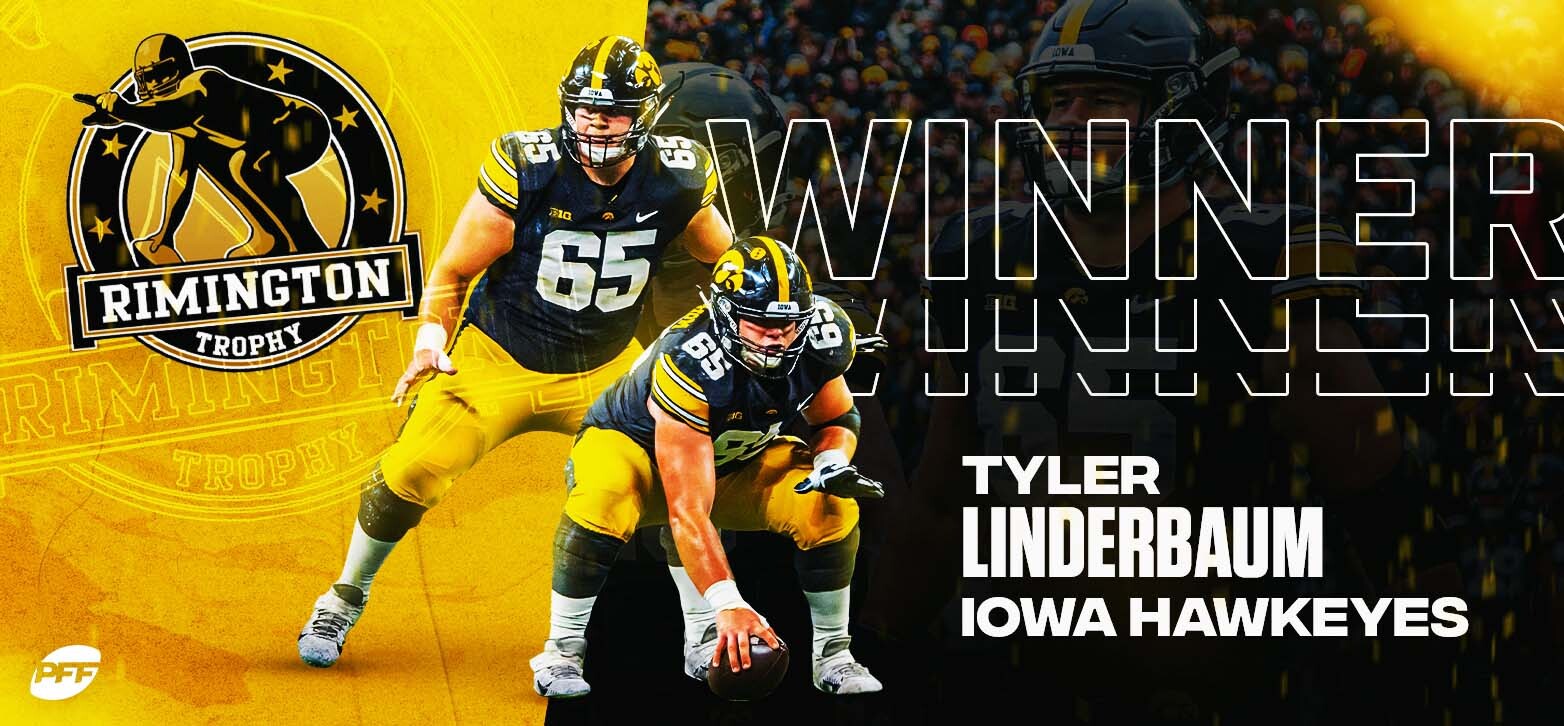 University of Iowa Center Tyler Linderbaum Named 2021 Rimington Trophy Winner
New York, NY – Announced tonight on the virtual Home Depot College Football Awards Show on ESPN, University of Iowa center Tyler Linderbaum has been named the 2021 Rimington Trophy winner, an award that marks him as the most outstanding center in division I football. He is the first Hawkeye to receive the honor.
Upon learning that he won, Linderbaum said, "It is an honor to be recognized with the Rimington Trophy and to be the first Iowa Hawkeye to earn this honor. I would like to thank my teammates, Coach Kirk Ferentz, Coach George Barnett as my position coach, and all the staff with Iowa football. I feel very fortunate to represent Iowa football in joining a long list of outstanding players who have previously earned this award. We have enjoyed a very enjoyable and successful season, and I look forward to preparing for and competing in the Citrus Bowl with my coaches and teammates."
The Iowa native had an impressive season with a number of accolades. He was one of four finalists for the Rotary Lombardi Award and one of the three finalists for the Outland Trophy. He was named first-team All-Big Ten by league coaches and media and was selected as the Big Ten Conference Rimington-Pace Offensive Lineman of the Year.
Linderbaum was named a midseason first-team All-American by Associated Press, The Athletic, CBSSports.com, and Sporting News.
About Linderbaum receiving the honor, Head Coach Kirk Ferentz said, "I am so very happy for Tyler to be named the winner of the Rimington Trophy this year. At heart, Tyler is a small-town Iowa kid who has embraced every opportunity and challenge to become one of the best linemen in the history of our program. As a player, he has a combination of speed, footwork, intelligence, and toughness that every coach dreams of. His desire to get better fuels him and sets a standard for our entire program. He is a tremendous leader on the field and the classroom, where he will graduate in 3.5 years. Every team in the country could use a guy like Tyler Linderbaum. I'm thankful he's on our team."
The Hawkeye center finished the season as the highest-graded power 5 center since 2014 according to Pro Football Focus, with the highest-ranking offensive grade and run blocking grade.
Selection Process
While more than a dozen All-America teams are selected annually, the Rimington Trophy committee uses these three prestigious teams to determine a winner:
Walter Camp Foundation (WCF)
Sporting News (SN)
Football Writers Association of America (FWAA)
Because the selectors of these three All-America teams can place centers in a "mix" of offensive linemen that includes guards and tackles, their 11-man first teams can often have two centers. The Rimington Trophy committee's policy is to count all players that play primarily the center position for their respective teams as centers, even though they may be listed as guards or tackles on the All- America teams.
The center with the most first team votes will be determined the winner. If there is a tie with first team votes, then the center with the most second team votes will win. If there is still a tie, the winner will be determined by a majority vote from the Rimington Trophy Committee, provided with data from Pro Football Focus.