Current Winner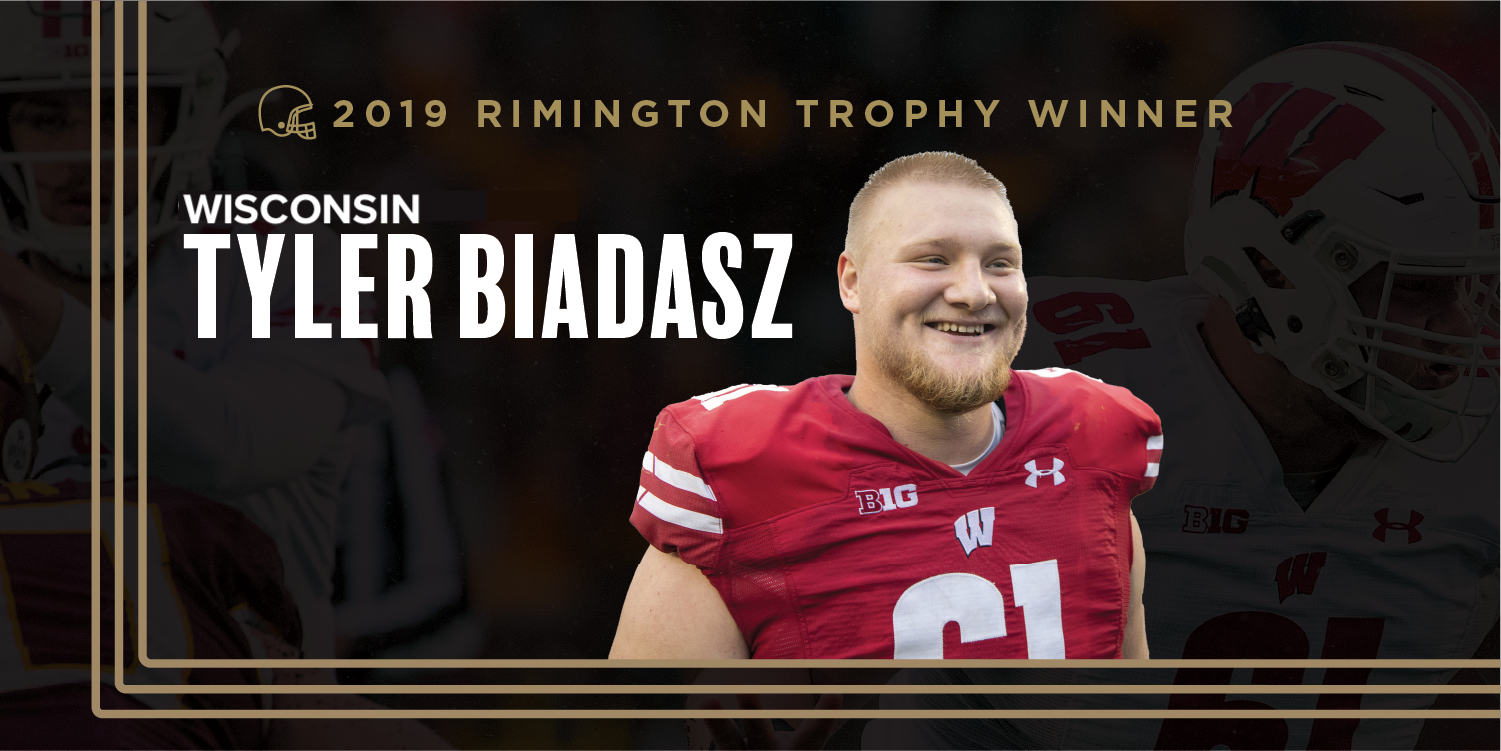 Tyler Biadasz, Wisconsin center and team captain, was awarded the Rimington Trophy, given to the nation's most outstanding center, Thursday, December 12, 2019 at the ESPNU Red Carpet Show preceding the ESPN Home Depot College Football Awards Show.
Upon receiving the news, Biadasz said, "It's absolutely an honor to be a part of this. To be recognized nationally with an award for your specific position, recognizing the work that you put into your craft, you feel really grateful. This award means a lot to me. Coach (Joe) Rudolph and Coach (Paul) Chryst took a shot on me. I had never played center. Now, to be recognized as the best in the country, that's really unbelievable to me. I'm very grateful to them for how they've affected my life and helped me along the way."
Tyler Biadasz, the 21st recipient and first center from Wisconsin to be named trophy winner, will be honored by the Rimington Trophy committee and the Boomer Esiason Foundation at the Rococo Theatre in Lincoln, Nebraska on January 18, 2020 – in the same city where trophy namesake and Nebraska All-American, Dave Rimington, earned his place in the College Football Hall of Fame.
The latest in a line of outstanding offensive linemen from Wisconsin, junior center and team captain Tyler Biadasz calls the shots for a unit that once again is among the best in college football. The consensus first-team All-Big Ten selection and Outland Trophy finalist anchors a line that has powered the Badgers to more than 300 rushing yards in five games this season. With 40 consecutive starts to his credit, Biadasz is in his third season paving the way for record-setting running back Jonathan Taylor, who leads the country in scoring (26 touchdowns) and has rushed for more yards (6,080) in three seasons than any player in FBS history. Biadasz's efforts in pass protection – he had allowed just two QB hits in 312 pass-blocking snaps entering the Big Ten Football Championship Game – are key to an efficient attack that has the Badgers completing 70.6% of their passes, the seventh-best mark in the FBS. A personal finance major, Biadasz is a three-time Academic All-Big Ten honoree.
About Biadasz, Coach Rudolph, Wisconsin's Offensive Coordinator and Offensive Line Coach, said, "Tyler is someone who exemplifies everything our program is about. He's intelligent, he has a tremendous work ethic, and he has proven himself to be an amazing leader for our team. We couldn't be more proud of the player and person he's become, and I consider myself fortunate to have the chance to coach him. We have a strong offensive line tradition at Wisconsin, and for Tyler to be our first Rimington Trophy winner is special. He has certainly earned it."