Current Winner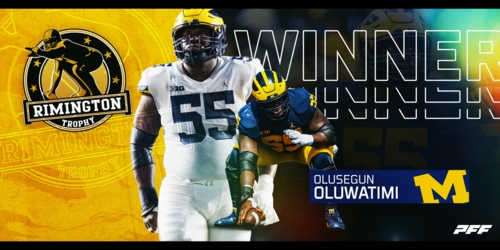 University of Michigan Center Olusegun Oluwatimi Named 2022 Rimington Trophy Winner
New York, NY – Announced tonight on the virtual Home Depot College Football Awards Show on ESPN, University of Michigan center Olusegun Oluwatimi has been named the 2022 Rimington Trophy winner, an award that marks him as the most outstanding center in division I football.
Upon learning that he won, Oluwatimi said, "I am humbled and honored to be the recipient of the Rimington Trophy. This is such a prestigious award and it is an honor to have my name associated with a great list of past winners and the great Dave Rimington. This was one of my individual goals, but you can't achieve that without your teammates and the guys along the offensive line that you grind with every day. It feels incredible to be recognized with this award and I know there's still more work to be done. Let's go smash!"
Oluwatimi has led a Michigan offensive line that ranks among the best in the nation. The graduate student has anchored a unit that lists sixth nationally in rushing offense and is seventh in scoring at 40.1 points per game
The Wolverine center started all 13 games and had an impressive season with a number of accolades. He was one of four finalists for the Rotary Lombardi Award and one of three finalists for the Outland Trophy. He was named first-team All-Big Ten by league coaches and was selected as the 2022 Big Ten Sportsmanship award winner.
Oluwatimi was named a midseason first-team All-American by The Athletic.
About Oluwatimi receiving the honor, Co-Offensive Coordinator/Offensive Line Coach Sherrone Moore said, "Olu is an exceptional leader, an elite football player, and an amazing human being. He is one of the best young men that I have ever been around. Olu is deserving of all the accolades that he receives, and we are especially excited that he is being recognized because he is a leader and tone-setter for our team and our offense. He makes our team better. We look forward to taking the field in the College Football Playoff Semifinal against TCU in the Vrbo Fiesta Bowl with Olu leading us as our center."
Oluwatimi finished the season ranking top five among all FBS centers in both offensive grade and run blocking grade according to Pro Football Focus. He did not allow a sack in 2022 and only allowed 9 total QB pressures throughout the season.
Selection Process
While more than a dozen All-America teams are selected annually, the Rimington Trophy committee uses these three prestigious teams to determine a winner:
Walter Camp Foundation (WCF)
·Sporting News (SN)
Football Writers Association of America (FWAA)
Because the selectors of these three All-America teams can place centers in a "mix" of offensive linemen that includes guards and tackles, their 11-man first teams can often have two centers. The Rimington Trophy committee's policy is to count all players that play primarily the center position for their respective teams as centers, even though they may be listed as guards or tackles on the All- America teams.
The center with the most first team votes will be determined the winner. If there is a tie with first team votes, then the center with the most second team votes will win. If there is still a tie, the winner will be determined by a majority vote from the Rimington Trophy Committee, provided with data from Pro Football Focus.
* * *
About the Rimington Trophy
The Rimington Trophy is presented annually to the most outstanding center in NCAA Division I College Football. Since its inception, the award has raised over $4.8 million for the Boomer Esiason Foundation. The 2022 Rimington Trophy recipient will be honored in at the Rococo Theatre in Lincoln, NE on January 14, 2023. To learn more about Dave Rimington, the trophy's namesake, and the event, please visit www.rimingtontrophy.com
The Rimington Trophy is a member of the National College Football Awards Association (NCFAA), which encompasses the most prestigious awards in college football. Founded in 1997, the NCFAA and its 25 awards now boast over 800 recipients, dating to 1935. Visit ncfaa.org to learn more about the association.
About the Boomer Esiason Foundation
In 1993, Boomer Esiason's son, Gunnar, was diagnosed with cystic fibrosis (CF). Boomer and his wife Cheryl founded the Boomer Esiason Foundation to raise funds and awareness for the cystic fibrosis community. To date, the Foundation has raised over $157 million and works to provide educational and financial resources to help people living with CF in the here and now.
About Pro Football Focus
Since 2006, PFF has separated themselves from the pack in their ability to provide game-changing data supported through studying every player, on every player, of every game. In 2014, they began to do so for college football.
Rimington Trophy Contact:
Rich Hahn
646.292.7946