Dave Rimington
About Dave Rimington

Dave Rimington has served with the Boomer Esiason Foundation since 1993 and has been President since 1995. Dave and Boomer played football together for the Cincinnati Bengals.
Before joining the Boomer Esiason Foundation as President, Dave lived and worked in Hong Kong in the Import-Export business. He also was a graduate assistant football coach at the University of Wisconsin, helping them win the Big 10 Championship and their first Rose Bowl Championship ever. In 1992 he received a master's degree in international business. While at Wisconsin, Dave was a member of Beta Gamma Sigma National Honorary Business Fraternity.
Dave was a first round draft choice for the Bengals in 1983 and was their starting center from 1983 to 1988. He was the NFL All Rookie Team Center in 1983, and he received the NFL Edward Block Courage Award in 1986. He later played for the Philadelphia Eagles (1988 to 1990).
Dave received a bachelor of business administration degree in economics from the University of Nebraska. He was awarded many honors while in college, including: the Outland Trophy in 1981 and 1982 -- the only player in college football history to win this award twice; the Lombardi Trophy, 1982; All-American Center, 1981, 1982;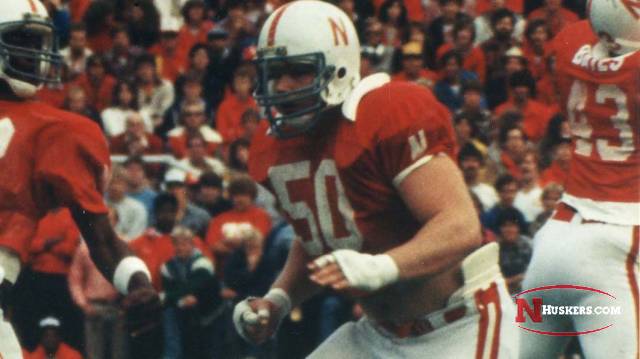 N.C.A.A. Top Ten Student-Athletes, 1982; and N.C.A.A. Post Graduate Scholarship, 1982. In 1997, Dave was inducted into the College Football Hall of Fame. In 2004, Dave was inducted into Co-SIDA's Academic All America Hall of Fame. Dave and his wife Lisa and their four children reside in New York City. Dave Rimington is considered by many to be the best college lineman of all time.
His college career ended with an impressive list of achievements:
Outland Trophy - 1981 & 1982, he is the only football player to win this award twice.
The Lombardi Award - 1982
Big Eight Offensive Player of the Year 1982
Orange Bowl Offensive Player of the Game 1982
Two-time All-American
Three-time All-Conference
Two-time Academic All-American
Three-time Academic All-Conference
NCAA Top Ten Student Athlete
College Football Hall of Fame-1997.
Academic All-American Hall of Fame 2004