Current Award Winner
JOE MONTGOMERY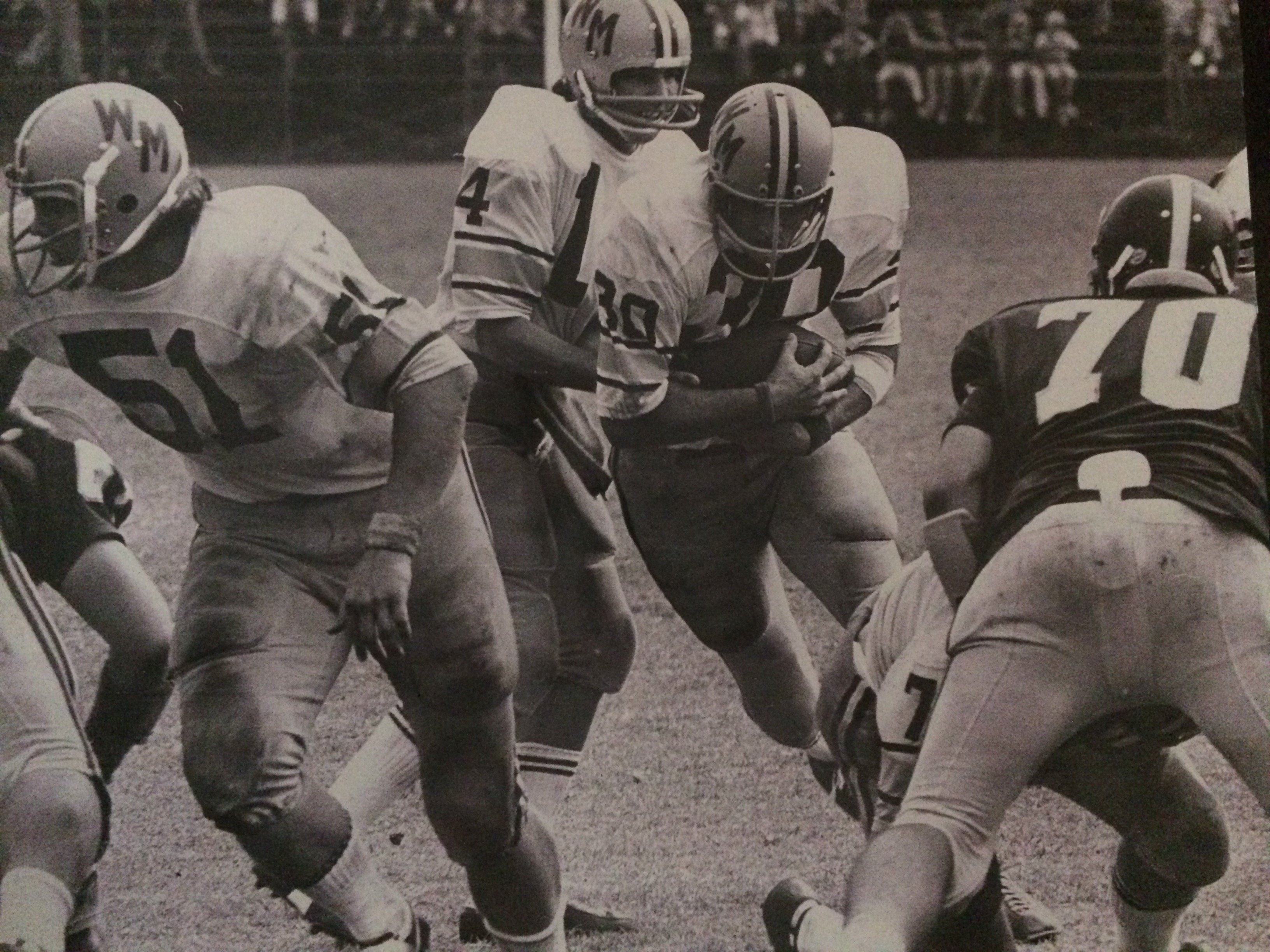 By Peter M. Kalison '57 (W&M Sports Information Director, 1955-57)
William & Mary prides itself on developing the "true student-athlete". The combination of a world-class education and Division I Athletics provides graduates with all the tools necessary to become leaders in both their professions and communities. Former football team captain Joseph W. Montgomery '74 personifies this ideal.
After a playing career as a center that earned him a place in the Tribe's Athletics Hall of Fame, Montgomery went on to achieve equally remarkable success in the business world and become a fixture in serving both the campus and greater Williamsburg community.
There is no greater testament to Montgomery's impact on, and off, the playing field than his being chosen from a nationally competitive list of candidates as the 2017 recipient of the prestigious Gerald R. Ford Legends Award. The award, named after the 38th U.S. President, is presented to a former collegiate or professional center that, in addition to a standout football career, has also made significant contributions to the football and/or business communities, or through philanthropic endeavors. Ford, who was himself a standout center at the University of Michigan, was the award's first recipient.
Montgomery will be recognized at the annual Rimington Trophy Presentation hosted by the Rimington Trophy Committee and the Boomer Esiason Foundation at the Rococo Theatre in Lincoln, Nebraska on January 13, 2018. The Rimington Trophy is awarded to the most outstanding center in NCAA Division I-A.
An outstanding lineman at Brookville High in Lynchburg, VA, playing for coach John "Bunker" Hill, Montgomery was an all-district center and nose guard and was recruited heavily by his 'hometown' team of Virginia Tech. But, William & Mary also had a strong interest, and it was represented by future Collegiate Football Hall of Fame coach Lou Holtz, then in his second year at the helm of the Tribe.
The decision between the Tribe and Hokies was far from an easy one for the then-18 year old Montgomery, "Growing up in Lynchburg around so many Virginia Tech fans and supporters, the program was very attractive to me. (Then Tech Head) Coach (Jerry) Claiborne let me know I was a priority for them in the recruiting process. He really tried to sell the program to me and even showed up at my house at one point, unannounced, to reaffirm his interest. While his offer was very tempting, there was something about Coach Holtz and the opportunity at William & Mary that I couldn't overlook. In the end, I told Coach Claiborne I was going to W&M before I even knew the Tribe still had a scholarship to offer me!"
While the leap of faith eventually worked out, it did lead to some anxious moments and a story to remember.
"After I told Virginia Tech my decision," he remarked. "I quickly called Coach Holtz, hoping he still was able to offer me. Thankfully he did, and he told me that he'd be in Lynchburg the next day. When I reminded him that next day was not only Sunday, but Super Bowl Sunday, he didn't miss a beat and told me he'd be here. He watched most of the game with my family and even enjoyed some home cooking."
While Montgomery got to share a Super Bowl Sunday with a budding legendary coach, he got much, much more than a great story to share.
"Going to play at W&M was the best decision of my life", reflected Montgomery, "This University has played a major part in my career success, and I owe it much. Playing for Coach Holtz was a transformative experience. He was meticulous, he knew everything about you, he made you believe you were better and could do better. He surrounded himself with superior people on his staff, like (future NFL head coach) Bobby Ross, (long-time NFL line coach) Larry Beightol, (NC State head coach) Bo Rein and others. It was a lesson in hiring that I never forgot."
William & Mary played a challenging schedule in that era, going up against major programs like North Carolina, West Virginia, Virginia Tech, Vanderbilt and Wake Forest. Holtz's teams, while not compiling winning records, held their own. Montgomery played his final two seasons with the Tribe under head coach Jim Root, who was successful in his own right.
Individually, Montgomery more than held his own. A two-time first team All-Southern Conference and Big Five selection at center, he culminated his collegiate career serving as the team's co-captain for the 1973 season, earning All-American recognition from multiple publications (Football News and AP Honorable Mention), All-East recognition, and runner-up consider consideration for the Jacob's Blocking Trophy. His efforts that season helped pay dividends in the win column as the team's 6-5 record marked the Tribe's first winning ledger in six years.
"Our biggest wins were consecutive upsets over Virginia Tech in my junior and senior years. We won 17-16 in the 1972 Tobacco Bowl," remembers Montgomery. "Then we opened up the following season with a 31-24 win in Blacksburg."
"We had some really good football players on our team," Montgomery recollected. "I lined up beside many exceptional offensive lineman, Jackson Neall, Barry Beers and Tom Waechter to name a few, and we played with guys like David Knight who played wide receiver for the Jets for several seasons, Phil Mosser, Rick Pawlewicz, Russ Brown, John Gerdelman, Billy Deery at quarterback, and Kevin Rogers. They were special players."
Montgomery's football career at W&M firmly established him as one of the program's greatest linemen, a placement validated with his being named to the All-Century William & Mary team in 2000 and his election to the Tribe Athletics Hall of Fame. He continued football after graduation, as he was drafted by Chicago's entry in the World Football League in 1974, but choose to take an offer to attend the Philadelphia Eagles' training camp.
He was among the team's last cuts after nine-weeks of camp. After playing for the Charlotte Hornets in the World Football League the following season, Montgomery found himself back in Lynchburg with a hard decision to make about his future. While his dreams of a professional football career remained tantalizingly close, a chance introduction to fellow William & Mary graduate, Larry Phillips '55, changed his trajectory.
"A mutual friend introduced the two of us," reflected Montgomery. "I had just returned from Charlotte after the World League had folded and Larry convinced me to join his investment firm in Lynchburg. One thing led to the next and it turned out to be an incredibly great fit for me professionally. After a few years, we decided that opening an office in Williamsburg made a lot of sense and I moved here in 1979, and this area has been my home ever since."
Fast-forward four decades and Montgomery is a fixture not only on campus, but also within the community at large. He is currently Managing Director of Investments with The Optimal Service Group of Wells Fargo Advisors in Williamsburg. Montgomery's work has earned national acclaim, as Barron's ranked him as one of the nation's "Top 100 Financial Advisors" every year since the publication first produced the listing in 2004 – eventually placing him in its "Hall of Fame". His name can be found on similar lists in many of the nation's leading financial and investment trade publications.
He has been involved with the Greater Williamsburg Community Trust, a director with the Williamsburg Community Hospital and the Rotary Club to pick a few among the many. Currently, he serves on the Board of Trustees of the Virginia Retirement System Board, Virginia Capital Foundation and the Colonial Williamsburg Foundation.
Montgomery has a long and continuing relationship with W&M since his graduation, receiving the Alumni Medallion from the Alumni Association, the College's top alumni honor, in 1996. He has been President of the Society of the Alumni, on the President's Council, the W&M Board of Visitors, and president of the W&M Athletic Educational Foundation … he is also a continuing Randolph Associate of the Dean's Circle at the Mason School of Business and the James Blair Society.
Joe is married to Linda Winebarger Montgomery HON '02, and has two children, Madeline Vaughn and Joseph, Jr., who is expected to graduate from W&M's Marshall Wythe's School of Law in 2018.